The Taunton Municipal Lighting Plant provides electric service to the following communities:
---
General Statistics for 2021
Territory Served (square miles)
100
Number of Customers served
39,802
Peak Load (MW)
146.81
Annual Retail Sales (kwh)
635,498,570
Annual Retail Revenues
$94,438,451
Annual Electrical Usage (KWH) by Customer Classification
Residential Customer
286,303,743
General Service
74,234,034
Large General Service
66,743,736
Industrial Primary Service
180,330,465
Street & Private Area Lighting
4,675,134
TMLP Production Capacity in KW
TMLP Unit 9 Combined Cycle
110,000
TMLP Unit 8
0
Transmission & Distribution
Transmission
8.12 Miles
Distribution Lines (Overhead)
550 Miles
Distribution Lines (Underground)
36 Miles
Substations & Capacity
17 Units
Distribution Capacity
293323 kva
Distribution Transformers
7200 Units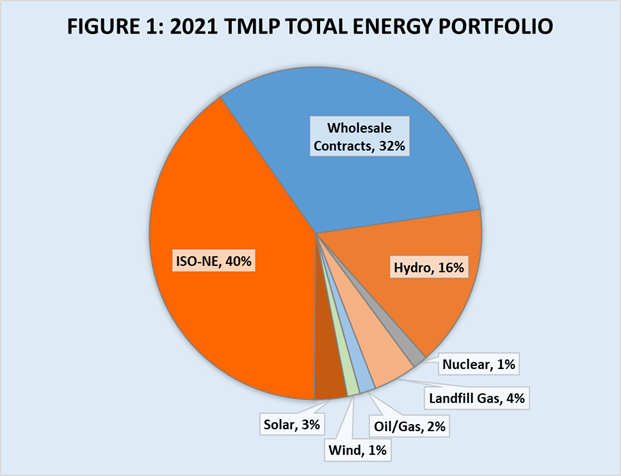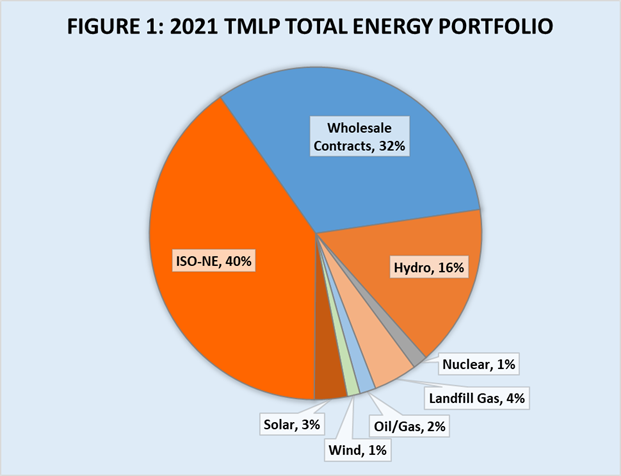 TMLP's power portfolio is comprised of a diverse mix of carbon-free, renewable, and traditional generation sources. Some of these resources we own, while others we have contractual agreements to receive the output of specific generators, and lastly we fill the rest of the portfolio with wholesale market power. The "Power Sources" table above represents a breakdown of the all the assets that we own directly or those for which we contractually own the output, shown here in the "Known Resources" category. We also sign "wholesale contracts" to lock in rates with suppliers, and lastly leave a portion open to ISO-NE's wholesale energy market, both of which are included in the "Wholesale Resources" category. The total of these two categories is our total fuel mix which is compared to ISO-NE's reported fuel mix.